False images inflating the number of Tea party protesters attending the national march on September12th have been circulating the web and were posted on several
prominent conservative blogs
before being taken down.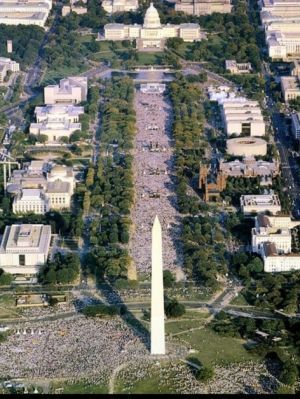 Several important facts proving the fact that this picture was not taken this weekend include:
1)Pete Piringer, public affairs officer for the D.C. Fire and Emergency Department, noting that though there were a lot of people, the Capitol the crowd "only filled the Capitol grounds, maybe up to Third Street,". Note in the picture they extend until the Washington Monument which is bordered by the 15th and 17th streets.
2) The National Museum of the American Indian, located at the corner of Fourth Street and Independence Avenue opened on Sept. 14, 2004, but is missing from the photograph.(Looking at the photograph, the building should be in the upper right hand corner of the National Mall, next to the Air and Space Museum.) . So the picture is clearly older than five years ago. (taken from
Politifact.com)
3) In the picture, there are also cranes in front of the Natural History Museum .
According to Randall Kremer, the museum's director of public affairs, "The last time cranes were in front was in the 1990s when the IMAX theater was being built."(taken from
Politifact.com
)